These easy and delicious grain-free meatballs are quick enough to make for a weeknight meal. Pair them with your favorite sauce for a family favorite dish.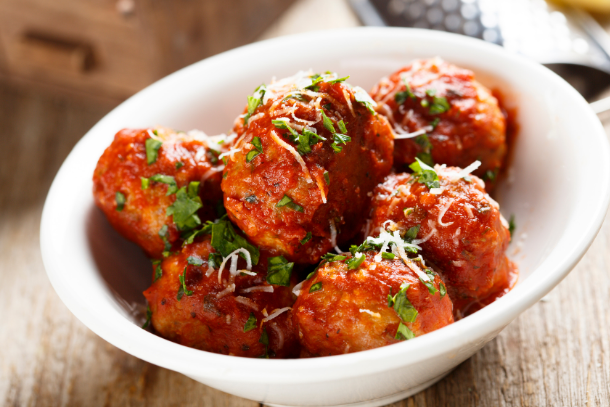 How We Began Our Grain-Free Lifestyle
Our journey to eating a healthier and grain-free diet began about a year ago. My Husband gets a lot of "windshield time" as he is a truck driver/car hauler, and with that windshield time comes a lot of radio time. Specifically, satellite radio. He listens to a lot of truck driver stations that have all sorts of shows on from business talk to health and wellness. Yes, not all truck drivers fit that poor stereotype we all know of.
My Husband came home one day talking about his usual show that is about health and wellness. He had been talking to me now for months about eating healthier and more specifically, a ketogenic diet. I said it was a fad and since I already eat healthy, I don't see why we needed such a change. He continued to explain to me all of the key points of eating for a ketogenic state of wellness, and I finally looked at him and said, "fine!" It's not like it was going to last more than a few weeks anyways, because if you know my Husband, you know that salad makes him grumpy.
[Read more…]

about Easy and Delicious Grain-Free Meatballs