I've been making this recipe a lot since we moved into the camper. Camper ovens are little to be desired, and since this recipe does not require an oven, they have been a weekly occurrence in our home. All you need in a cast iron pan, a bowl, and the ingredients. I also use a mason jar, biscuit cutter, or drinking glass to cut the circle shape for the english muffins.
Timeline For Sourdough English Muffins
I prefer to cook these first thing in the morning so they are hot and ready for breakfast. This is what my sourdough timeline looks like for these english muffins:
Feed starter the morning before cooking the english muffins.
The night before cooking, I mix the dough with my active and bubbly starter.
The morning of cooking, I roll out my dough and cut them into circles.
After resting, I start cooking the english muffins.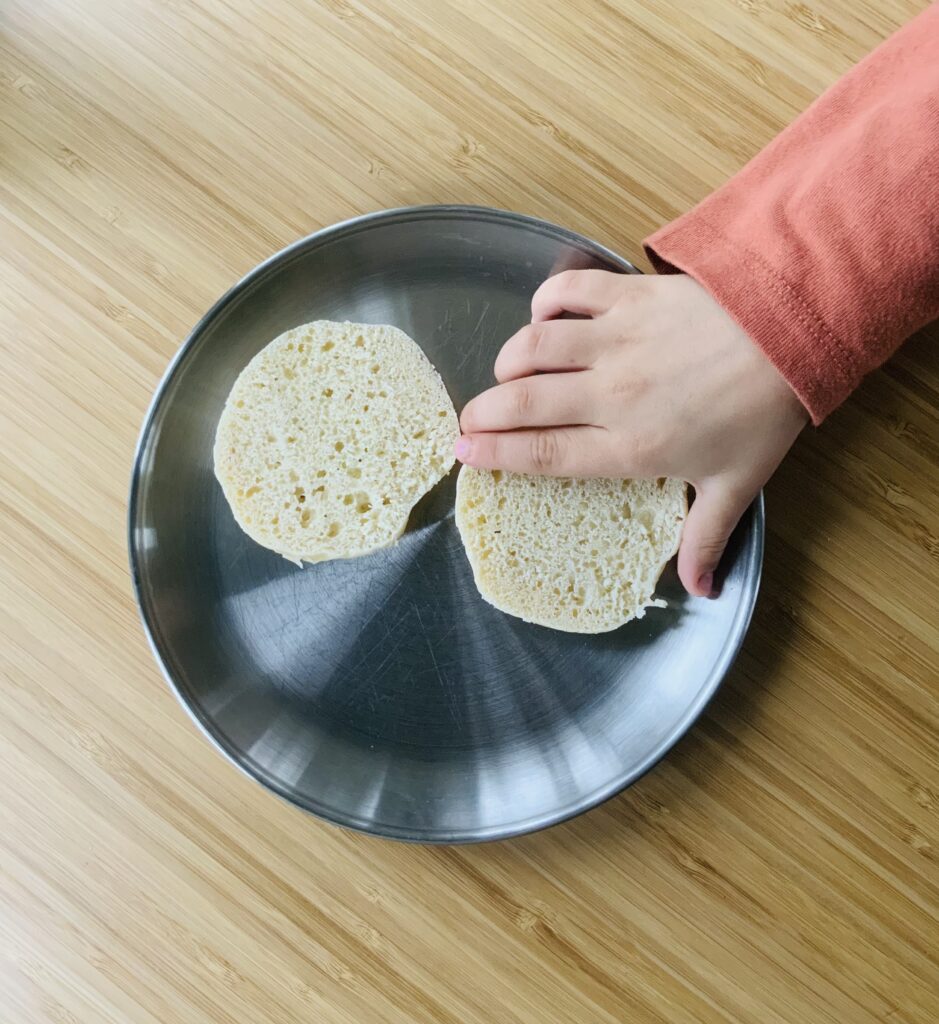 My family doesn't let them cool for very long before they are cut open and slathered with butter or made into a breakfast sandwich with a farm fresh egg and cheese. Add some homemade pepper jelly that I canned from last Summer, and you have the most delicious meal you could ever source from your backyard and kitchen.
Sourdough English Muffin Recipe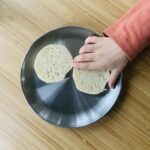 Print Recipe
Sourdough English Muffins
Soft and sweet sourdough english muffins are made with an active sourdough starter and cooked in a cast iron pan. Start these the night before so you have a hot and delicious breakfast the next morning.
Servings:
8
English muffins
Equipment
1 cast iron pan

1 mixing bowl

1 biscuit cutter, mason jar, or drinking glass

1 Parchment paper

lid to cover cast iron skillet ( I use a half baking sheet)
Ingredients
100

Grams

active sourdough starter

20

Grams

honey or sweetener of choice

240

Grams

milk

360

Grams

all-purpose flour

7

Grams

sea salt

cornmeal for dusting
Instructions
12 hours before you make your dough, add all the ingredients (except the cornmeal) into a mixing bowl.

Stir with a wooden spoon (or with your hands like I do) until combined.

Let this "shaggy" dough rest for 30-60 mins at room temperature.

Turn the dough out onto a floured surface and knead by hand for 5 minutes.

Place dough back into the bowl and cover with a damp towel.

Let the dough ferment on the counter at room temperature for 8-12 hours (I do this part overnight).

After fermentation, turn the dough out onto a floured surface and cut into 3 inch circles with a biscuit cutter, mason jar, or drinking glass.

Sprinkle some parchment paper with cornmeal, then place your cut-outs onto the parchment paper and sprinkle more cornmeal on top. Let them rest for 30-60 mins at room temperature.

Preheat your cast iron skillet on low heat.

Place a few muffins into the cast iron and cover with a lid (I use a half baking sheet to cover my skillet).

Cook for 4 minutes, then turn the muffins and cook for an additional 4 minutes. They will rise and brown slightly on the outside.

Allow to cool, but who am I kidding?! These are amazing nice and hot with butter dripping from them. ENJOY!
Notes
Store at room temperature for 5 days or freeze. I will double the batch to freeze the extras.
You can follow me on Instagram or Facebook for more active sourdough content with tips, tricks, and recipes. If you've purchased a dehydrated starter from me, thank you! My starter customers are always welcome to contact me regarding their starter. I love to see your success, and if it means that you need to ask a few questions, well, ask away!
Pin For Later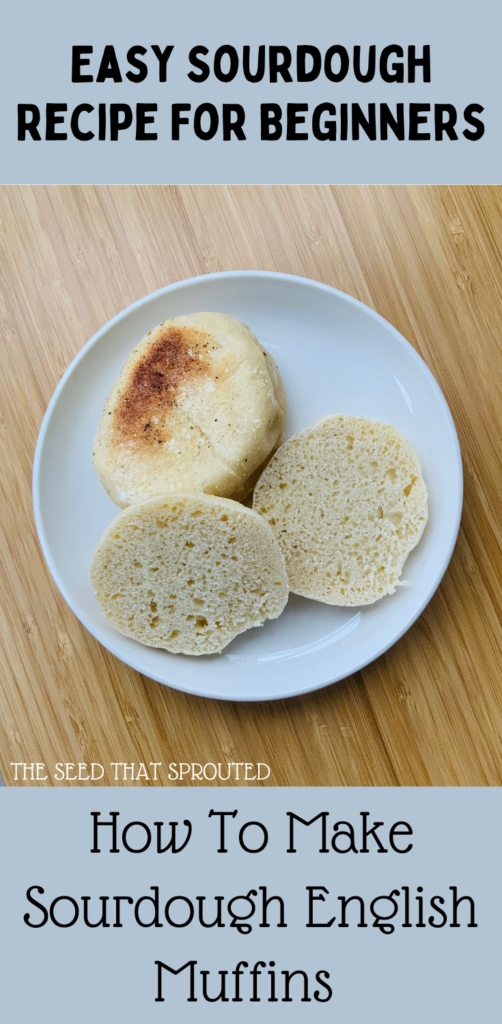 Learning how to make sourdough english muffins will give your breakfast game a big jump. You can always double this recipe to freeze some for later too. Happy baking friends, and remember to tag me on social media with your wonderful sourdough creations!