A simple, seasonal dinner to make with one of the first harvests from the garden. Simple Spring Pea + Bacon Instant Pot Risotto will satisfy all of your tastebuds.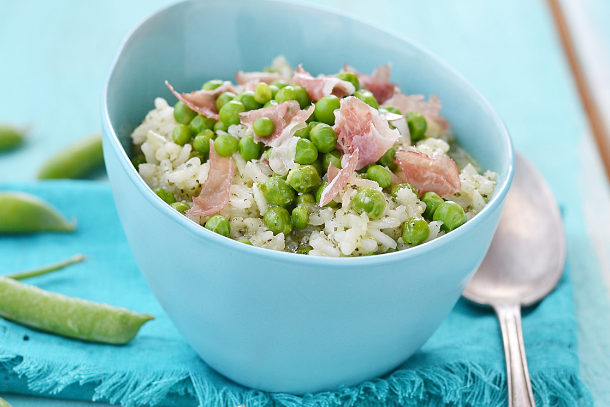 Why Make Simple Spring Pea + Bacon Instant Pot Risotto?
Why not? That's my simple answer.
The more detailed answer involves me telling you about the nutrients in peas, how nourishing this dish is, and the unbeatable flavors. So here it goes…
Peas Are Good For You!
Green peas are fairly low in calories and contain several vitamins, minerals and antioxidants. They contain properties that may reduce the risk of several diseases, and they're also high in fiber and protein. In fact, compared to the same serving size as carrots, green peas contain 4 times the amount of protein.
Peas are one of the first directly sown seeds that we plant in our garden in our USDA Zone 7b, so this means they are also one of our first harvests from the garden. It's an exciting time, and if you don't eat them all raw while standing next to the garden, they'll be able to make it into a dish as delicious as this.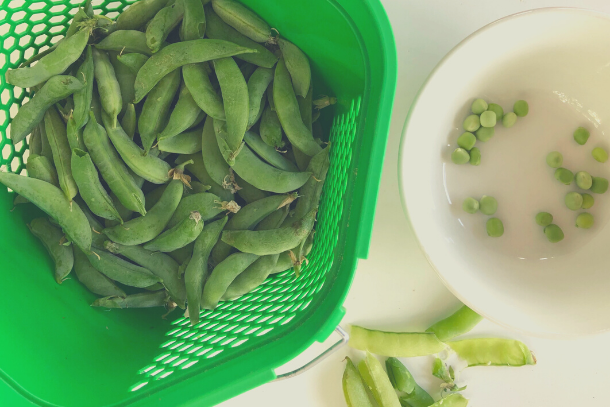 Bacon Is Delicious (And Nourishing)!
Bacon has had a bad rap for some time. You can thank the 90's culture that told us to eat the carbs, but not the fat (insert giant bagel with low fat cream cheese).
High-quality bacon is full of nutrients such as antioxidants, selenium, iron, niacin, vitamin B6, vitamin B12, phosphorus, potassium, magnesium, zinc, thiamin, riboflavin, and is loaded with complete protein. Bacon contains the amino acids that you also need in your diet, making it a delicious way to keep your brain and body healthy and functional, all while maintaining muscle mass and hormone balance. In addition, it's full of Omega-3's and choline, which help your heart and brain fight off disease and illness.
So, please! Eat the damn bacon!
This Dish Is The Ultimate Craving Food
Salty bacon and bright garden peas compliment each other to create a balanced flavor among the warm and comforting risotto. We are coming off of a season full of casseroles, soups, and roasts. While we are craving the fresh harvests of a Spring garden, the need for a nourishing meal still lingers. This dish satisfies all of those needs.
What Do You Need To Make Simple Spring Pea + Bacon Instant Pot Risotto?
Typically, risottos are made over the stovetop with a pot of hot broth being intermittently added to a large skillet of Arborio rice. It's time-consuming and hands-on. I have neither time or hands (which are usually holding a baby), so this is where the pressure cooker comes into play. By far, this piece of equipment is the best thing taking up cabinet space in my kitchen. It has saved dinner countless times. All hail the pressure cooker!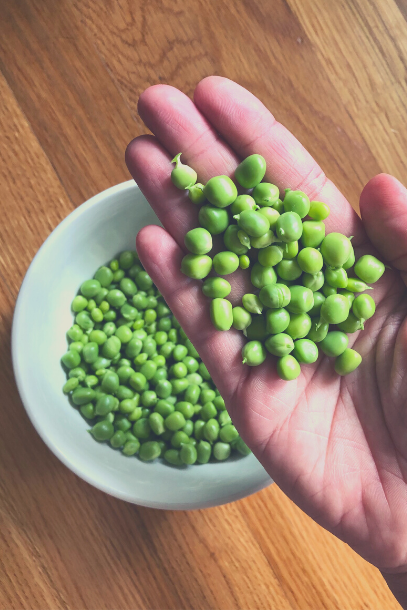 What would I do without my Instant Pot?! My Mom brain forgets to thaw meat for dinner almost every night, so IP to the rescue! Toss a few extra minutes on the timer, and you've got shredded chicken for Taco Tuesday. Don't forget the limes.
What If I Don't Have A Pressure Cooker?
If you don't have a pressure cooker, this recipe can be made on the stovetop. You will still follow this recipe until adding the wine to deglaze the pan. After you do that, you will gradually add the warm broth (keep it warm on the stovetop) to the rice until it is all absorbed, sticky, and soft. Continue with the remaining recipe instructions after the broth has been added.
Ingredients Needed To Make Pea + Bacon Risotto
Bacon
Butter
Onion
Garlic
Arborio rice
Dry white wine
Chicken stock or bone broth
Peas
Salt + Pepper
Heavy cream or full fat coconut milk
Shredded sharp cheddar cheese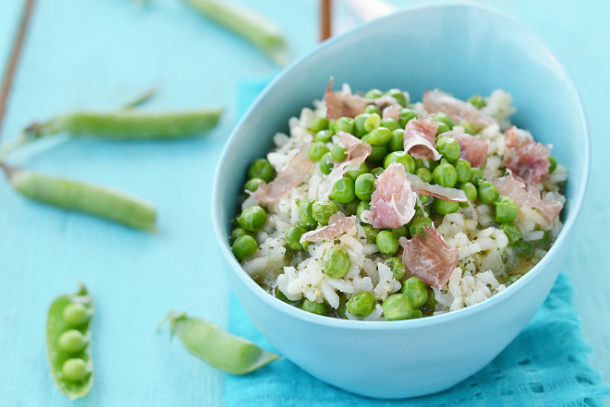 How To Make Simple Spring Pea + Bacon Instant Pot Risotto
Get all of your ingredients ready. If you are using fresh garden peas, you will need to shell them from the pod. Also, shred the cheese if you are using a brick. Chop the onion and garlic.
Sauté the bacon in the Instant Pot. Remove the bacon when it's fully cooked, and set aside all but 1 tablespoon of bacon fat. Note: save that bacon fat to cook your eggs in the next morning.
Add the butter and onion to the IP to sauté for 5 minutes, then add the garlic and rice to cook for 1 additional minute.
Deglaze the pot with white wine and turn off the sauté function.
Add the chicken stock, peas, salt and pepper, then cover and seal the lid. Set the timer to pressure cook for 6 minutes at high pressure.
Once done, do a quick release and add the cream and cheese. Stir well and serve with crumbled bacon over the top of each bowl.
Recipe For Simple Spring Pea + Bacon Instant Pot Risotto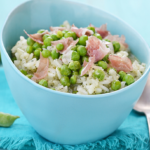 Print Recipe
Simple Spring Pea + Bacon Risotto
Fresh garden peas and salty bacon make the perfect combo in this simple and comforting Spring dish.
Ingredients
3

slices

bacon, cut into 1/2" pieces

2

tbsp

unsalted butter

1/2

onion, chopped

3

cloves

garlic, minced

1½

cups

Arborio rice

½

cup

dry, white wine

3½

cups

chicken stock or bone broth

1½

cups

green peas, fresh, canned, or frozen

1

tsp

salt

¼

tsp

black pepper

¼

cup

heavy cream or full-fat coconut milk

4

oz

shredded cheddar cheese (about 1 cup)
Instructions
Turn Instant Pot to sauté, add the bacon, and cook until crispy. Remove bacon from the pot, and place on a paper towel lined plate. Leave 1 tablespoon of bacon fat in the pot.

Add the butter and onion to the pot and sauté until soft, about 5 minutes.

Add the garlic and Arborio rice and saute for 1 more minute.

Pour in the wine and scrape up any browned bits from the bottom of the pot. Turn sauté function off.

Add in the chicken stock, peas, salt and pepper.

Cover and seal the lid. Turn the Instant Pot to the pressure cooking option at high pressure for 6 minutes. Once finished cooking, do a quick release of pressure.

Open the lid, stir in the cream and cheese, and season with additional salt and pepper.

Top each bowl of risotto with crumbled bacon.
Once all of the ingredients are in the pressure cooker cooking away, do yourself a favor and pour a glass of that white wine you used as an ingredient and take a big sip. Assign the dishes to someone else, and relax while dinner cooks itself.
Cheers friends!
Pin For Later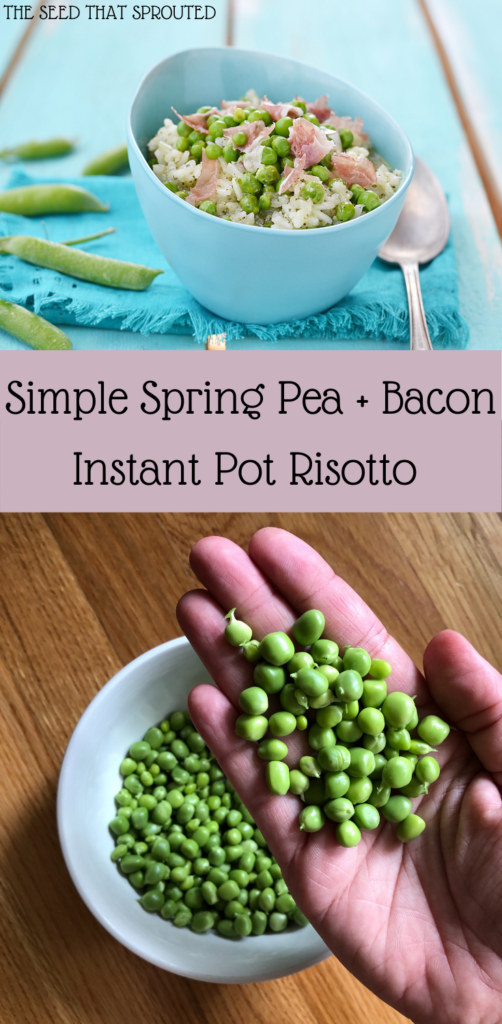 Recent Posts