This easy and healthy strawberry chia seed jam recipe is perfect to make during the peak of strawberry picking season. All you need are 4 ingredients!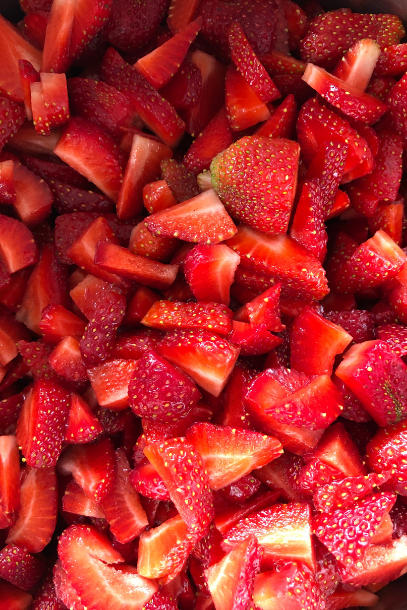 When Are Strawberries In Season?
Ah, strawberry season! One of my favorite times of the year. Here in North Carolina, in USDA Zone 7b, strawberry season is around the end of April-beginning of May. Growing up in Upstate NY, the season was closer to the end of May.
One of my favorite memories as a child, was going to my Grandpa's farm to pick strawberries. He would give me a pint container and send me out to the field saying, "fill this up and bring it back." He knew I would be out there for hours filling my belly with warm, juicy, red berries. I'd throw a few in the container to look like I listened to Grandpa's instructions, but not many made it back to the house.
Now that I have 3 little ones who love being outside, I decided to carve out the space on our property for some strawberry plants. This is our first year with a strawberry crop (you have to pinch off the blooms the first year), and the kids are outside browsing for a snack every day. It makes the little girl inside of me so happy!
Strawberry Jam Makeover
In addition to fond memories of picking strawberries as a little girl, I also remember my Mother making jam every summer. My Dad had really discovered his green thumb, and had planted raspberry bushes, grape vines, strawberry plants, and blueberry bushes. My Dad has a natural green thumb and has one of my favorite gardens to visit. I, on the other hand, have had to work really hard in turning my thumb light green.
We harvested so much fruit, and my Mom preserved it all. I remember the hot water bath canner, the boxes of pectin everywhere, and the jars lining the countertop when she had finished.
She eventually wanted to use less sugar when canning, so she switched her recipes up to make freezer jam. Since I also choose not to add any refined sugar in my strawberry chia seed jam recipe, I decided to experiment with adding honey instead. But, I then also needed a way to thicken the jam without the use of pectin. That's where the chia seeds come into play.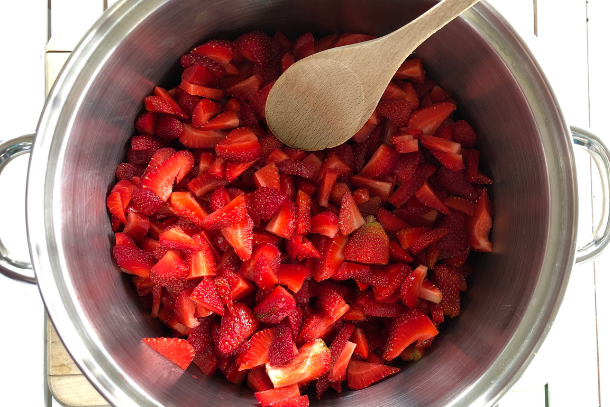 Chia Seeds
Chia seeds, which can be classified as a super food, contain beneficial nutrients, such as omega-3 fatty acids, fiber, protein, calcium, phosphorus, and zinc. They are also a complete protein and contain all 9 amino acids that our body needs.
Chia seeds can absorb up to 10x their weight in moisture. They also contain soluble fiber and a substance known as mucilage, which is responsible for the gel-like texture when wet.
People use chia seeds in a variety of different ways. You can make an egg substitute, by creating a "chia egg." You can find out how to do that here. There are also recipes like this strawberry chia seed jam, or chia seed pudding where you would use them as a thickening agent. And lastly, people love to toss them on salads, in smoothies and sandwiches for an added nutrient boost. They have a mild taste and texture, so they are easy to disguise in any meal (hey parents, I see you!).
What You Need To Make Easy And Healthy Strawberry Chia Seed Jam
This is such an easy recipe to put together, and only requires 4 ingredients. The obvious one is STRAWBERRIES! I highly recommend organic, in-season strawberries. You'll get the fresh, in-season taste with no nasty chemicals from sprays. Strawberries are part of the Dirty Dozen list, which means they receive a lot of chemical treatment such as pesticides and insecticides. I would really search out an organic farm or a farm that doesn't spray quite as much. Better yet, you can grow your own! They're really not that hard to care for. This is coming from the girl with the hard-earned light green thumb.
The remaining ingredients in this recipe include lemon juice, honey, and of course, chia seeds. As with any recipe, I highly recommend using the fresh, and/or local ingredients.
Strawberries
Lemons
Local, raw honey
Chia seeds
Preserving jam traditionally requires a hot water bath canner, but making freezer jam requires less equipment (and time). All you really need are canning jars with rings and new lids, a stock pot for cooking the fruit, a ladle, and a potato masher. A few optional pieces of equipment include a canning funnel and immersion blender.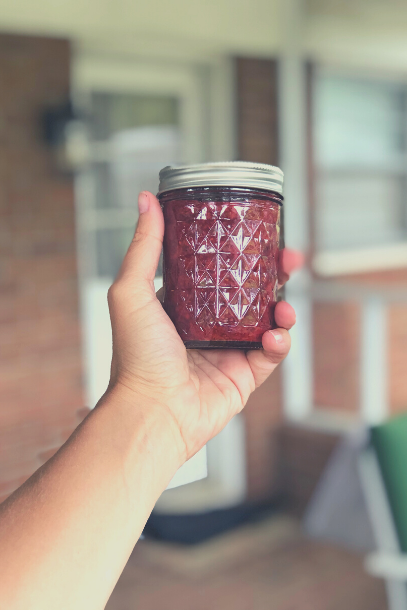 Tips For Making Easy And Healthy Strawberry Chia Seed Jam
Before starting this recipe, I highly recommend washing and drying all of your canning jars, rings, and lids. They only need a simple soap and water hand wash.
You'll want to wash and hull all of your strawberries, and chop the bigger berries up. If you want a smoother jam, you can hand mash the berries during the cooking process, or even use an immersion blender for a super smooth jam. I actually prefer some pieces of berry in my jam.
Using fresh lemon juice and local, raw honey really makes this jam taste so much better than using the grocery store bottled stuff. The lemon juice acts as a natural preservative, and the honey adds a bit of extra sweetness. How sweet your berries are will determine how much honey to add to the mixture. It's all based on personal preference and variety of berry used.
Lastly, be sure to leave about 1/2 inch of headspace when filling your jars. This will allow room for expansion if you choose to freeze the jam.
Variations Of Chia Seed Jam
The best part about this recipe, is being able to make different variations of it. You can use almost any kind of berry, and can even use other fruits such as apple, grape, or peach. Frozen fruit works well too! With the firmer fruits, you will want to at least hand mash the fruit after cooking. You can even try adding different spices or herbs in the jam, or using pure maple syrup instead of honey. Some flavor combinations that sound delicious:
Maple Cinnamon Apple
Blueberry Rosemary
Ginger Peach
Easy And Healthy Strawberry Chia Seed Jam Recipe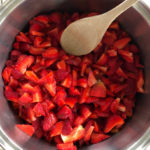 Print Recipe
Easy And Healthy Strawberry Chia Seed Jam
A healthy freezer jam that is quick and easy to make during the height of strawberry picking season. Only 4 ingredients needed!
Equipment
Stock pot

Potato masher and/or immersion blender

Measuring cups + spoons

8 oz. canning jars with lids and rings

Ladle

Canning funnel (optional)
Ingredients
4

cups

Chopped Strawberries

2

tbsp

Fresh Lemon Juice

1-4

tbsp

Local, Raw Honey

¼

cup

Chia Seeds
Instructions
Wash all jars, lids, and rings with warm water and soap. Wash and hull the strawberries. Roughly chop the berries into ½ inch pieces.

Add berries to the stock pot, and start cooking over medium heat. Stir frequently until juices start forming in the pot. Once berries begin to bubble, stir more frequently to avoid burning. Once berries soften and cook to a desired consistency (5-15 mins), remove from burner.

Using a potato masher or immersion blender, mash berries in the pot. Note: the immersion blender will make a much smoother jam.

Add freshly squeezed lemon juice and chia seeds to the stock pot. Stir well. Then, add your desired amount of honey, making sure to stir and test sweetness.

Let mixture cool to room temperature. The jam will continue to thicken as it cools. If you would like the jam to be thicker, simply add more chia seeds.

Once cooled, spoon into jars using the ladle and funnel, leaving ½ inch of headspace. Wipe rims, then add lids and secure tightly with rings. Label lids with name and date.
Notes
Will keep in refrigerator for 2 weeks or freezer for 6 months.
Pin For Later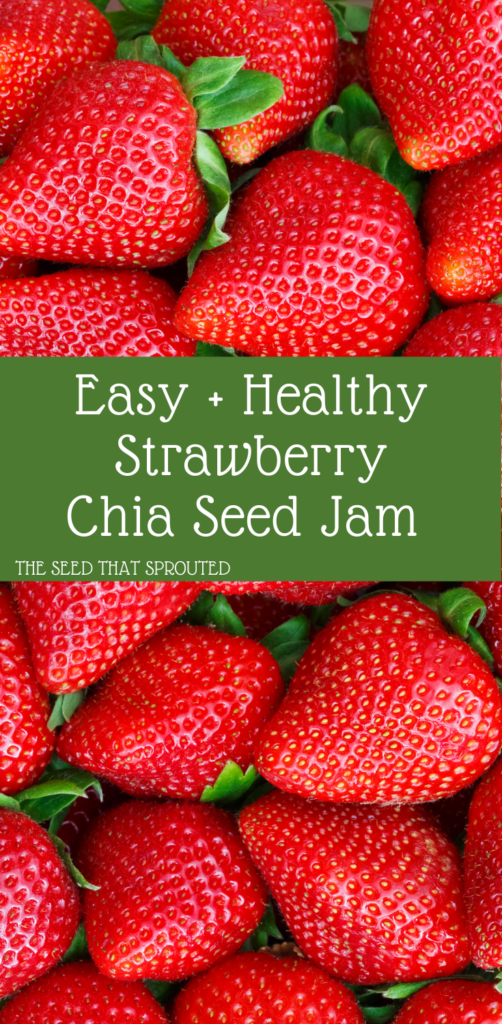 What To Eat Strawberry Chia Seed Jam With
If you actually get the jam spooned into your jars without eating it all first (I have no experience with this – ha ha!), then there are many different ways you can enjoy it.
Grain-Free Waffles
Granola
Sourdough Biscuits (don't forget the whipped cream)
Peanut Butter + Jelly
Ice Cream
These are just a few things that we like to serve the chia seed jam on. But, like I said, by the spoon is always appropriate. I included links to some recipes above, but if you want to get those recipes in your inbox (Grain-Free Chocolate Chip Cookies), then please drop your e-mail below.
As always, I hope you come back to visit soon. May there be many bright and juicy strawberries in your future. See y'all next time!
Recent Posts